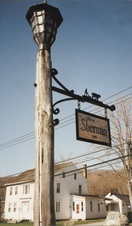 History of the Sherman Historical Society
Now in existence for 39 years, the Sherman Historical Society continues to strive to be an active part of the Sherman town community. Our goal is to expand on our existing programs and to continue to add new and exciting events to our schedule each year.
Behind the scenes, our mission also includes collecting, preserving, and most importantly, making available to you and to future generations the historic artifacts relating to Sherman and the life stories of its residents. Our collections range from pre-Colonial Native American artifacts to those belonging to 20th Century Sherman.
The Sherman Historical Society operates without any financial support from Town Government. In order to meet our goals and provide services in our community we rely on the generosity of members and donors alike for support.

---
---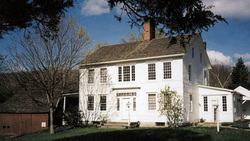 The Northrop House Museum
This federal house was named for the
Northrop family
, prominent Sherman residents for several generations, who lived here for many years and owned the property for a generation after. Most notable were: David, who became Sherman's first town clerk in 1802, his son, David Jr., who built this house and served as representative in the State Legislature in 1835, and grandson, David Ward Northrop, an attorney who, after his early life in Sherman, was later Secretary of State and served both as Mayor, 1884-85, and then Postmaster, 1886-90, of Middletown, CT where he had later settled.
The house was built in 1829 by David Jr. after selling his mercantile business across the road and occupied for 2 generations. On the 1867 map, the house is labeled 'D. Northrop Saloon.' It appears to have been a stop on the road for travelers, clients, and drovers taking their cattle to market. The Northrop's were involved in the community and probably held a 'public" house where one could find a bed, food and drink. The second floor ballroom may have been a general meeting place for the new and growing government, long before the Town Hall was built next door. The property was once a working farm and still includes the cow barn, used at one time to dry tobacco, and a lovely pasture across the brook which now includes a scenic
walking trail
.
This house was donated to the society by a generous benefactor in 1981 and is furnished with local furnishings mostly from the Mallory collection.
The house is open seasonally May to October by research and tours are by appointment only.
Please feel free to call the office for an appointment at 860-354-3083 or
email
us.
---
---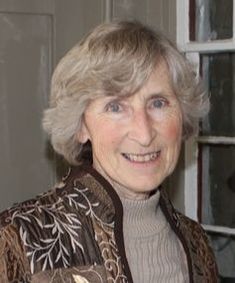 History in the Making -
Board Changes at SHS
The Sherman Historical Society is pleased to welcome several new members to its executive board, including a newly elected president, who complement the existing team and together look forward to the coming year.
Before touting the new, we must thank (though it would be impossible to thank enough) outgoing president Elizabeth Munch Mard for her many years of dedicated leadership. She served as president twice, (2006-2010 and 2012-2016), and was a constant through several Society transitions, including Northrop House's historic renovations. She was instrumental in organizing a number of our annual barn sales (this year will be our 30th!), and she actively participated in so many of our annual programs throughout the years, as well as the special, historical milestone events, such as our Revolutionary War re-enactment, our Civil War encampment, and Washington's Ride. Liz will remain on our board and continue to be an active member of the Society.
Meet our new president: Sue Moga.
A few years back, Sue had planned—but wasn't yet ready—to retire from her job as Director of Muscoot Farm in Somers, NY, to live nearer her grandchildren. Still, planning ahead, while living in Croton-on Hudson, the Mogas bought a house in Sherman in 2013.
More
---
THE 2017-2018 SHS Board of Directors
Officers: Sue Moga - President, Elizabeth Munch Mard - Vice President, Lori Finck, Secretary, Susan Lang - Treasurer
Directors: Lisa Cilio, Jan Desiato, Will Jones, Joni Taylor and Ginny Zellner