Upcoming Programming AND EVENTS

---
SHS Summer ProgramsHooked on History
- FULL
HOH will give the children a hands-on approach to life as a child, during a certain period in time. Activities will include: cooking, chores, stories and songs, sports and games, crafts and other fun and educational activities.
This year's theme: The Victorian Era.
For children entering into 1st-3rd grades.
June 20th – 23rd from 9 am -2:00 pm
$170 for Members, $200 for Non-Members
Registration Form
Kids@Cobbler Shop
Kids@Cobbler Shop is a unique Program due to its ability to offer activities that appeal to many interests: Nature, Arts, Crafts, Sports, Music and Academics all within the confines of a Historic Time Period.
This year's theme: Back to School
For children entering into 4th – 7th grades.
Program will not be offered for 2017, please check back for 2018
---
---
THE GLORIA THORNE SCHOLARSHIP
The Sherman Historical Society's Gloria Thorne Scholarship is awarded to a high school graduate or college student who has contributed to the activities of the Sherman Historical Society and has maintained a good academic standing. Scholarship deadline is July 31st of each year. Eligible candidates applications will be reviewed by a committee and all decisions will be made by mid-August of the same year. Click
HERE
for a copy of our application or
contact the office
for more details.
---
---
OUR PAST EVENTS

Maple Sugaring
This past week, 36 children from Kindergarten through 4th Grade got to experience our Maple Sugaring Program. The children learned all about winter tree identification, maple sugaring and food preparation all while being able to actually tap a tree, make Indian Slap-jacks and butter. They all learned a lot and had a great time too! This was the first of many educational programs, geared for Children, the Society will be offering. Stone soup is up next and stay tuned for more! Please click
here
for the recipes of all the treats we enjoyed.
---
It was one DANDY of a Holiday Open House!
Thank you to all who stopped by the Sherman Historical Society for our Yankee Doodle Holiday Open House on Sunday, Dec. 4th. Northrop House Museum's rooms were filled to overflowing with our many guests reveling in the joy of the season, the scents of mulled cider and homemade soup, the warmth of a hearth fire, and the eye-spy challenge of learning Connecticut history through our festive and fact-filled holiday décor.
Jan Desiato, with a feather in the cap of his 1770s attire, greeted guests as Connecticut's famous Yankee Doodle. Later children sat enthralled, listening to SHS Volunteer Board Member, Ginny Zelner tell the story of Sarah Noble, heroine of the children's book, The Courage of Sarah Noble, by Alice Dalgliesh, and then enthusiastically played some games that Sarah had played.
The spread of home-baked desserts were a hit as always while carols wafted in the air amid the joy of good conversation and good cheer.
We thank you all who came by and all of you who have so generously supported us throughout the year. You've made our programming possible through your donations, and your attendance has made those events successes. And a special thank you to all of our volunteers, who helped make this event so wonderful, especially the talented: Ginny Zellner, Cindy Rosa, Eileen O'Connell, Gail Turro, Phyllis McGoldrick and Doris Tomaselli.
Due to the overwhelming feedback we received, we have decided to keep the house open and decorated for the next two Sundays from 1-3pm and during the week of 12/26 (hours TBD, check back here or our facebook page for more details). Yankee Doddle will not be here, but we hope you will be.
May your holidays be safe and as "Dandy" as you've made ours. Happy New Year!

---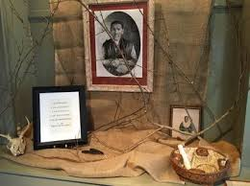 INDIAN HERITAGE SUMMER
EXHIBIT & SHARING
​


---
---
2016 Kids@Cobbler Shop
Mix together a great bunch of kids, experienced counselors, talented mentors and sunny weather. The result was a five day love affair with history entitled, "kids @ cobbler shop!" Sponsored by the Sherman Historical Society. This plunge into history from June 20 to 24 was a tailor-made adventure for youngsters, grades 4 through 7. This summer's focus was on Sherman's own namesake, 18th century Roger Sherman meeting a real, live, 20th century descendant of his, Cynthia Randall
Rosa. Our journey through Roger's life included quilting squares with Joni Taylor, 1700 surveying and architecture with John Jenner, Farming and Gardening with Marilyn Dwyer and Anika Berger, Orienteering on the trail with Chris Jellen, watching the bluebirds in the field, and Calligraphy with Ginny Zellner. Guests Darlene Kascek of the IAIS presented 'Native Life In The Woodlands' and Angela Dimmitt dazzled us with her bird calls and bird lore. Gloria Thorne elaborated on the Native American artifacts on exhibit in the Northrop Museum. The week culminated hammering out group skits created during the week, based on Roger's life. Our audience then witnessed the 'campers', one at a time, signing the Constitution, just one of our country's four great documents signed by Roger Sherman! Erich Diller, 'kids@cobbler shop' Director, skillfully engineered another successful week for all. 2016 has met the 1700's Roger Sherman and we have the ink stains to prove it. You know when you have brought it home… The young 'camper' lingers, reluctantly says goodbye with a hug, and fights back a tearful exit. See you next year when we go 'Back to School' at the Six Schoolhouses of Sherman.
All photos taken by BigShotsByCindy.com. Please visit this link for more pics.
---
'Hooked On History'
The Sherman Historical Society introduced 'Hooked on History' to give children entering the 1st- 3rd grade a hands-on approach to life as a child, during a certain period of time, through activities that include; cooking, chores, stories and songs, sports and games, crafts and other fun and educational activities. To kick-off this new program we focused on 18th Century Colonial Times. All of the children stepped back into the 1700's during the 4-day program which concluded on Thursday, June 16th. Each day had a different theme relating to; agriculture, animals, homemaking and hosting a social. Some of the activities all of the children participated in included; learning how to clear a field, plant, move & haul hay and use various saws; making pickles, butter, pretzels, buttermilk biscuits, lemonade and hand churning ice cream; hauling water, doing laundry, and making soap; preparing wool by carding and washing and then dry felting; weaving; making rope; making quill pens and writing invitations to our social, sealing them with wax; making toys and playing colonial games; learning about bees, wax and honey; sewing pocket, listening to stories and just having some good old fashion fun, without the need of store-bought toys or electronics.
We were so impressed with all of our kids; their excitement, love of learning and eagerness to try new things. And we could not have been more pleased with their feedback. This program would not have been possible without all of our counselors, who were a huge help and did such a great job; Paul Hurwitz, our agriculture day helper, Justin Molito, our laundry day helper, Becky Steiger, our butter shaker and Jenn Enger, our bee expert for coming in and helping, Sue Peet for capturing this week with her wonderful photography skills, Gloria Thorne and Ali Meenan for being so supportive and jumping in feet first to help us out every day with the various activities, planning, clean-up, etc., and especially to the amazing HelenAnne Ostrosky & Sue Moga for their tireless efforts in partnering with me to create and run this program for these children. We truly appreciate the generosity of your time and talents and could not have done it without each and every one of you! We look forward to offering this program again next year and plan to focus on the Victorian time period.
Here are the
recipes
used during our program. All photos by Susanne Peet, Helene Anne Ostrosky and Amy Bocompani
---
FAMILY DAY WAS SIMPLY MAGICAL!
Our Family Day, held this past Saturday, was a treat of sight and sound and sleight of hand. Oh, what fun was had!
Al Burgasser opened the event under the tent with his wonderful collection of children's songs that appealed to the young and young at heart. Following Al, Carol Paterno gave a lively reading of "Slippery Soap!" her recently published children's book co-authored with Doris Tomaselli. The audience giggled along with the comedic tale of soap on the loose.
And then Mario the Magician took the stage and amped up the crowd's energy with his high-octane magic show that amazed everyone with its DIY ingenuity, comedic timing, and exceptional magical talents..

more



---
2016 MEMORIAL DAY PARADE
Thank you to Molly Garcia, Sue Peet, Alicia Sakal & Kieran Patrick for some great pictures of our wonderful friends, who braved the heat to march for the Sherman Historical Society. We loved everyone's costumes and enthusiasm! Thank you all!!!