our Latest News and events

UPCOMING 2018 events

We have some wonderful upcoming events...something for everyone in the family.
Sept 1 - 2018-2019 Membership Drive Kick-off
Sept 8 - Autumn arrives at the Old Store
Sept 23 – The Echoes of Leach Hollow, 1 pm - Jewish Community Center, Sherman
Sept 30 – Annual Meeting – All Members welcome, 2 to 4pm - Northrop House
Oct 7 – 'Wicked Litchfield County' author discussion, 2pm - Northrop House
Nov 3 – Old Store Member's Holiday Preview Party, 4 to 7pm
Dec 2 - Open House – Roaring 20's Theme, 2 to 5pm and Tree Lighting 4:30pm – Northrop House and Old Store

---
2018-2019 MEMBERSHIP DRIVE KICK-OFF
Without you, We'd be History. With You, We Thrive and Keep History ALIVE.
Since 1975 the Sherman Historical Society has preserved and interpreted our history for residents as well as for visitors to our beautiful town. We are able to do this thanks to our members. They allow our mission to be a reality. Along with the Barn Sale, membership dues provide the SHS operating budget.
The focus this year was the early 20th Century, beginning with a WWI Encampment in the fall with some terrific reenactors and continuing with the WWI theme for our Annual Holiday Open House. 'The Way Your Wear Your Hat…Hats Through the Decades' exhibit was the backdrop for the CT Open House Day, many school visits, and our summer house tours
Two significant celebrations highlighted our year, the 20th Anniversary of The Old Store and the opening of the Roger Sherman Learning Center. Thanks to a generous grant from The Kettering Family Foundation the "ballroom" is now a permanent exhibit space dedicated to life Roger Sherman from his Sherman beginnings to being one of our Nation's Founding Fathers. In March we began a Capital Campaign to restore the Barn and are truly grateful for the response and generosity of so many. Phase I is currently underway.
We have some exciting programs planned for this coming year, including restoration of the Barn, more educational programming, our Members-only Holiday Preview Party at The Old Store, the annual Holiday Open House which this year will include an old fashioned community tree lighting.
As we commence our annual membership drive, we ask that you partner with us to preserve Sherman's history, provide programs and exhibits and continue to maintain our properties. We hope you will consider becoming a 2018-2019 Member, as your generous support is so critical to our success.
On behalf of the entire Board of Directors, we would like to again thank you in advance for preserving our history and supporting our future.
You can mail a check to the office or select your Level of membership from the drop down box and click "Join Now" to make your dues payment via PayPal.
As always we thank you for your generosity and continued support!

---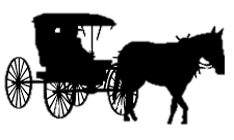 Echoes of Leach Hollow
Gloria Thorne, Curator, will present the story of a small Sherman community that thrived in the 1800's, before it was flooded by the waters of Candlewood Lake; told with original photographs and the narrative taken from an 1896 New Milford Gazette. Light refreshments will be served.
Sunday, September 23, 2018 at 1pm.
(suggested donation of $10 to the JCC)
At the Jewish Community Center, Rt 39South, Sherman

---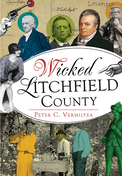 'Wicked Litchfield County' - Author Discussion
Have you ever wondered about the underbelly of Litchfield County…think thieves, rumrunners and rapscallions, along with accusations of witchcraft, counterfeiting, mass-murder, speakeasies and more devilish tales from the seedier history of the past? Local author and historian, Peter C. Vermilyea, will discuss his latest book 'Wicked Litchfield County,' followed by a Q&A session. Refreshments will be served and the book will be available for sale and signing.
Sunday, October 7, 2018 at 2pm.
At the Northrop House, 10 Rt 37 Center, Sherman

---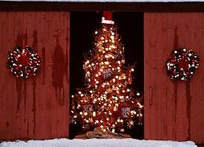 Holiday Open House & Community Tree Lighting
Our Annual Holiday Open House will celebrate the Roaring 20's. The Northrop House will adorned by festive holiday decorations and a Roaring 20's exhibit. Across the street, the Old Store will be welcoming holiday shoppers. Refreshments will be served in both locations.
New this year: we are excited to announce that we are going to have an old-fashioned tree lighting directly after our Holiday Open House. Think carolers, hot cocoa, cookies and pictures with old St. Nick, with the Society's Old Red Barn as the backdrop. We look forward to seeing you there, as we kick-off the Holidays in Sherman!
Sunday, December 2nd
Old Store opens at noon, Northrop House at 2pm and Tree Lighting Festivities start at 4:30pm

---
---
2018 Gloria Thorne Scholarship Winner
CONGRATULATIONS TO Nora Steiger!
The Society is thrilled to award the 2018 Gloria Thorne Scholarship to Sherman resident and member of the New Milford Class of 2018, Nora Steiger. Nora has been a very active volunteer at the Society, starting as far back as the 5th grade, helping organize our files, photographs and records. Nora also helped with our Holiday Open Houses as a junior docent, she marched with the Society during the Memorial Day parades, helped during our Hooked on History summer program, and one of her favorite experiences, participating in a live reading of a local Civil War Veteran's journal. Nora's credits her time volunteering at the Society for her love and appreciation for Sherman's local history as well as a desire to learn about the history of the places she visits and will potentially call home. We thank Nora for helping us with our Mission to preserve Sherman's history and we are touched to know The Society has left a lasting impression on her. Please join us in congratulating Nora Steiger on this well-deserved honor and wish her well as she embarks on her journey to obtain her Doctorate of Physical Therapy from the University of Rhode Island.

---
The Old Store Celebrates its 20th Anniversary!
When the Connecticut General Assembly issues an official citation, they want it to be known to all that the Assembly offers its sincerest congratulations to The Old Store Museum and Gift Shop in recognition of its 20 years of operation – well, what else can we say?
The August 18th celebration of The Old Store's anniversary was a magical night. Nearly 100 members turned out to socialize, shop at 20% off and enjoy the festivities. Moira Kelly was recognized for her leadership in the initial fundraising to purchase the store, and for running the store for the last 15 years. Members previewed a new video (see below) highlighting the history of the store and its purchase by the Sherman Historical Society.
Sue Moga, president of SHS, pointed out that the store has contributed generously to SHS over the last 20 years, in addition to providing significant renovation and maintenance of The Old Store Museum and Gift Shop building. These accomplishments were made possible thanks to a wonderful, dedicated group of volunteers.
Be sure to stop by the store next month to see the framed official State proclamation presented to us by Senator Michael McLachlan, and be sure to pick up a few gifts while you visit! We are open Thursday through Sunday, or whenever the flag is flying. Looking forward to seeing you soon. Need to contact us: 860-350-3475 or
email
---
THIS OLD BARN CAPITAL CAMPAIGN

THIS OLD BARN...will be History without
YOU
. The Sherman Historical Society's red barn—a sentinel in our Historic District—is in dire need of extensive restoration. Few of our historic barns remain today, which stand as testaments to our farming heritage. They enhance the bucolic beauty that is uniquely Sherman. Wilson Ware, Ben Palagonia, DeWolfe Hotchkiss and Malcolm Cowley, Sherman artists and writers of the past whose talents are shared here, knew the value of our old barns. We appeal to you today to support the legacy of the past and to help save a treasured piece
"our" history...This Old Barn.
Thank you,
Sue MogaSHS President
For More Information about the Capital Campaign, How you can Help and the Phases of Restoration, click
here
---
Levels of Gift Giving to Reach Our Goal

SHS Circle Of Donors - $5,000 To $25,000+
Partners In History - $1,000- $4,999
Society Friends - $250 - $999
Barn Buffs – Up To $249

ALL donations will receive acknowledgement.


Click the barn to make a donation via paypal

Restoration Update:
Phase 1: Structural Repairs: Jack up and level the barn so that the height is the same on all corners - in progress
Phase 2: Roof: Remove current shingles and install new Alaskan yellow cedar shingles. - up next

---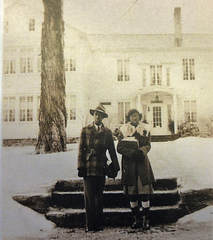 Did You Know...WHAT IS BLACK AND WHITE AND FULL OF COLOR?
To celebrate Black History Month, we wanted to share the story of Florence Quammie from an article reprinted from the Spring 2012 edition of the Sherman Historical Society Newsletter
Originally written by: Doris Tomaselli. All photos are from A Life in Color by Doris Tomaselli
The riddle's answer is in the story of Florence Elizabeth Eugene Quammie, whose abbreviated biography, A Life In Color, (is currently available for Sale at the Old Store or contact
us
.)
The Quammies – Joseph Allan, his wife Flora Mae and their two children, Florence and Gerald-came to live in Sherman in 1933, when Florence was only six years old. The transition from the bustling Bronx borough of New York to the sleepy farm community might have been traumatic enough, but add to it that the Quammies were also the first black family to do so, and the potential for serious complications came into play. The history for it was certainly there.
During the Civil War and despite abolitionists' cries, the majority of the North was not fighting for slaves' rights; in fact, many couldn't have cared less either way; for them the fight was about preserving the Union. During and after it, the influx of freed Blacks moving north to find work in the industrialized cities, came up against both American-born and immigrant workers who saw their jobs threatened by the new arrivals.
By the early 30s, some progress had been made but much sentiment still remained unchanged. The Bronx still had segregated neighborhoods and one contemporary New Yorker cover featured drunken Blacks on a stoop with a derogatory article about their "element." What resistance then might a lone black family encounter in an all-white rural town in Connecticut?
MORE
---
---

Did You Know...SAWMILL BRIDGE – TRIBUTE TO AN ERA
Reprinted from the October 1978 edition of the Sherman Historical Society NewsletterOriginally written by: Rachel L. Mitchell (based on a 1953 interview with J. Theodore Rogers who had early Sherman maps)
A bridge in Sherman, believed to have been completed in 1938, is a memorial tribute to an era gone by –a symbol of long-gone mills that sawed timber, ground grain, pressed cider, carded wool or flax, made shingles, thus meeting essential needs of the community. The mills, several of them located on land now under Lake Candlewood, dated probably from just before the middle of the 18th century until 1924.
This bridge lies just beyond the entrance to Veterans Field and spans the Sawmill Brook. Encased in the stonework on each side of the bridge is a millstone. It is known that one of the stones came from a mill close by whose building stood where now is the house owned by Bert Fraade. Although millstones work in pairs, it is thought that the other stone came from a Leach Hollow mill located southwest of the Boy Scout Camp Aquilla, whose swimming pool is the old millpond.
These mills were located on brooks on various parts of town making them convenient for serving several areas. Although dates of operation are unknown, it would appear that not all of them were operational or even in existence at the same time.
MORE
---
---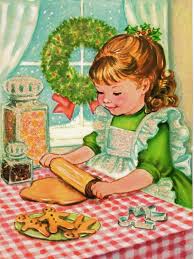 Did You Know...
'TIS THE SEASON FOR GINGERBREAD
By Susan Moga, President

I sometimes wonder if our sense of smell is heightened this time of year or if it is simply the onslaught of scents that make it feel that way - wood burning fires, Christmas tree lots, cookies in the oven, snow in the air. There is no aroma that evokes Christmas quite like gingerbread, but how did ginger become a Christmas tradition?
While savory spices were used as preservatives in ancient times and masked the flavor of less than fresh ingredients, the first recorded appearance of a bread baked with ginger is 992 with an Armenian monk, Gregory of Nicopolis. Brother Gregory moved from Armenia to France where he taught his brother monks to make gingerbread. From France gingerbread made its way to other countries in Europe and Scandinavia. By the 15th century ginger was of such great importance that there was a German Gingerbread Guild to monitor quality and production. It is not known who began shaping gingerbread into little men, but it has been a Christmas tradition in Germany and elsewhere for centuries. Queen Elizabeth I even had them made into edible portraits of her guests.
Gingerbread came to America with European settlers using traditional recipes. In 1796 Amelia's Simmons's American Cookery (printed in Hartford) was the first written to require distinctly American ingredients like corn, cranberries, and squash. Simmons's gingerbread cookie recipe calls for molasses in lieu of treacle and "four tea spoons pearlash, dissolved in half pint water", but what is pearlash? Pearlash was a common household staple in the early American kitchen obtained from wood ashes. A purified version of potash, pearlash is an alkaline compound which reacts with an acidic ingredient such as sour milk, buttermilk or molasses to produce carbon dioxide quickly. It was used as a chemical leavening agent and the forerunner of modern baking powders. The one drawback was its' bitter aftertaste so a plethora of spices were often used to cover the taste just as in days of old. So whether you are enjoying gingerbread or another traditional Christmas treat, we wish you all a wonderful Christmas!

---
---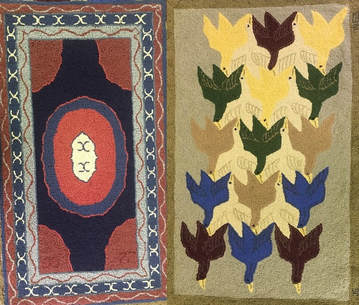 Did You Know...
TWO ARTISTIC HOOKED RUGS &
ONE PIONEER LADY
By Gloria Thorne, Curator
Jeanne Ibsch Smith, lived with her husband Philip Hillyer Smith on an old farm that Philip rescued in the early 1940's. If you want to experience the life led by the Smith's, just read PERENNIAL HARVEST, 1948, by "Phil Smith", as he was known in Sherman. In this book he describes their move from NYC to build a self-sustaining life-style under some very difficult circumstances! The book is dedicated to Jeanne, but she is not mentioned; it is a true story, with the town's names changed. He speaks of the previous owner, Charley Light and Andy Morren, who was a native, and great story teller; told me of "The Light House", up on the hill, which to me meant a beacon! Andy said, "when we were young, Charley would roll up the rug and hold "kitchen dances" - to the music of a fiddle!" Such fun they had!
Jeanne's rugs were made from men's wool suits, which she purchased at rummage sales in the area. The wool was cut into strips, dyed for contrast and then hooked into a pattern of her choosing. "The Birds" pattern was adopted from a wood cut by Maurits C. Escher; the smaller rug is of her own design. These rugs have genuine quality, and may currently be seen in the Gallery of SHS. Later, they will be hung.
The two hand-hooked rugs in the photo were recently returned to Sherman, having been made here 65 years ago. They were hand hooked by Jeanne Smith in her farm home atop Briggs Hill Road - on the NY/CT border. They were given to SHS by her step-son and granddaughters: Philip H. Smith III, of Virginia; Jennifer L. Smith and Thea E. Smith of Toronto, Canada.
My memory: Jeanne was at the book signing for "This is The Town I Remember", by Wilson P. Ware. We were at the Playhouse, on a sunny fall day and we sat down on a low stonewall to chat, with our books in our laps. She was close to Wilson and those who made up the volunteer staff of The Sentinel in the beginning years; and until the time it was sold. Her husband, Phil, was one of the original Editors of The Sentinel, and at this time, Janet Hopkins and I were the current owners. So, we had our local newspaper in common. I admired her energy and spunk. Phil had died; she was living alone and driving a small old car that got her to the Center for shopping and around locally. Jeanne was a small petite lady with a long braid down her back and wore long cotton skirts; probably hand made.
She still lived on her farm, with a few animals, a large garden, and a big woodpile, that she had cut and split! She may have had running water at this time, but earlier she was hand-carrying water from a pump at the well. I think she was about 80 when I knew her, and I totally admired her intellect and self-preservation! Jeanne died in 1992.
The two rugs are part of a larger collection, held by the family, and the Society is delighted to accept this example of the fine craftsmanship of an earlier resident. It is a very special remembrance. Thank you Jeanne, and family.

---
---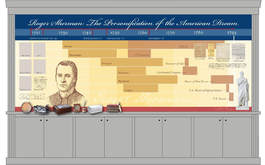 Did You Know...
The NEW Roger Sherman Learning Center
By John Jenner
In our last Newsletter you had a sneak preview of a major project now underway in the Ballroom of the Northrop House. Now we can reveal what's happening.
The above rendering was done by our local graphic designer, Marie Loria, who, incidentally lives with her family on the property that was, 275 years ago, the Roger Sherman farm. It is a time line display which shows the trades that Roger Sherman mastered and the contributions he made in his public life. The cabinet surrounding the time line is the one shown in our last newsletter which has now been completed by Jan Desiato.
This time line display will be the centerpiece of our new Roger Sherman Learning Center. Accompanying the time line will be a downloadable audio that will add a wealth of detail about Roger Sherman's life, his family, the places where he lived and a sampling of documents and artifacts related to his life.
When the display is completed and opened to the public later this year, it will be accompanied by period furnishings, all with connections to residents of Sherman, photographs of early and contemporary Sherman Residents and descendants of Roger Sherman. It will have a computer based research center which will contain our growing collection of Sherman's documents (transcribed for readability), local oral histories and the barns of Sherman, all of which have been photographed. The center space will be used for educational purposes for Sherman School students, public programs and special exhibits.
Keep watch in our SHS Newsletter to hear about our initiative to create a Roger Sherman Tourist Trail in Western Connecticut. Look for the grand opening of the Roger Sherman Learning Center which we hope you will all attend.

---
---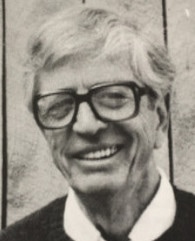 Did You Know...
WPW
By Ginny Zellner
WPW, stands as the tag ending to each article Wilson Ware wrote for the Sherman Sentinel spanning twenty-five years, as both an editor and contributor. The initials appear quite humble and unassuming. Add to the written work of WPW, try hundreds of pen and ink drawings of houses, barns and buildings. A Sherman legacy, pure and simple, Wilson captures the feeling of a rural Sherman, a time when you knew your next-door neighbor and you could just pop in unannounced for a cup of coffee. And today the school chums of then still look out for each other or are finding their way back to these small town roots. Wilson's drawings reflect unabashed love for the town he lived in.
Each image is intense, familiar and often taken for granted these days. Maybe it's time to take a closer look at this tall, athletic man with his dry sense of humor, walking with a slight limp and chugging around in his old VW camper bus.
Wilson wrote the record himself, 'Italy: The Riva Ridge'. One of the most compelling stories of WWII belongs to our own, Captain Wilson Ware an S-2 Intelligence officer, 1st Battalion, 86th Infantry, 10th Mountain Division. The U.S. Army's 10th Mountain Division was organized in 1942, Camp Hale, Colorado. The division was an experiment to train skiers, and climbers to fight as ski troops in the mountains of Europe during WWII. Some were accomplished skiers, others not so much. They were mountain men and all were volunteers. Together, in 13,000 feet altitudes, survival skills were honed. These recruits lived for weeks in brutal, towering snows and slept in temperatures dropping to 20 degrees below at night.
More
---
---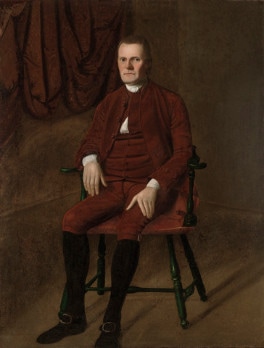 Did You Know...
Roger Sherman...'The Forgotten Founding Father.'
By John Jenner
It has been noted by Roger Sherman's biographers that he is "The Forgotten Founding Father". If we knew what he had contributed to the founding of our nation we would think of him as the Great Connecticut Statesman, our most important revolutionary hero.
What did he contribute? He served in the Continental Congress from its first meeting in 1774, through the Revolutionary War. Washington fought the war. but the Continental Congress ran the war and provided the weaponry, food, uniforms and finance. Roger Sherman was the only founder to sign all four of the founding documents and he played a significant roll in each of them.
The first was the "Articles of Association". The thirteen colonies had many border disputes that had to be resolved before colonies could unite to declare their independence as a committed set of thirteen states. Perhaps the greatest border dispute was the CT grant that extended westward across the upper half of Pennsylvania to Lake Erie. CT gave up these rights, holding only their portion of what is now Ohio. This is the Western Reserve, where CT citizen were given opportunities after the war.
Our second founding document was "The Declaration of Independence". We generally attribute it to Thomas Jefferson but, in fact, it was a committee of five statesmen who created it. They were: Jefferson; John Adams; Benjamin Franklin; Robert Livingston and Roger Sherman. If you still have a two dollar bill tucked away and look on the back you'll find a copy of the painting by our own John Trumball depicting the committee presenting the draft to John Hancock.
Our constitution is not the first one under which we were governed as a nation after the Revolutionary War. The first was "The Articles of Confederation", and there were thirteen Heads of State before Washington. It did not work well because the balance of power between the states and the central government had not been properly crafted.
Concerned leaders convinced Washington to convene the Constitutional Convention to draft a new constitution. The states representatives were deadlocked over the states vs. federal balance as before until Roger Sherman again proposed "The Great Compromise", which provides for proportional representation in the House and equal representation in the Senate. The deadlock was resolved, the "U.S. Constitution" was drafted, signed and taken back to the states for ratification. CT, under Roger Sherman's leadership, was the second state to ratify our constitution.
When George Washington was elected first President under our present constitution and the first Congress was seated, Roger Sherman was a CT Representative in the House. After a year or so one of our CT Senators resigned and Roger Sherman was selected to take his seat in the Senate, where he served until his death.
Your may recall that James Madison is credited with drafting the first ten amendments to our constitution, which we call "The Bill of Rights". A few years ago a draft copy of Madison's proposed nine rights was discovered in the National Archives among the Madison papers. It had Roger Sherman's comments and a suggested tenth right. Wouldn't you like to know which one he proposed?
Doesn't it seem to you that Roger Sherman should be recognized as one of our Founding Fathers? He served in public office almost fifty years and that is longer than any of our other recognized Founding Fathers.

---
---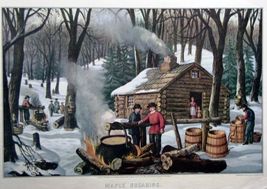 Did You Know...Maple Sugaring, by Sue Moga
As the Maple Sugaring Season gets underway it may conjure up thoughts of metal buckets hanging from trees, horse drawn sleds bringing sap to the sugar house and steam pouring out of the chimney. Or perhaps your images go back even farther to Native Americans and the legends of how it all began. For hundreds of years, maple sugaring has been a traditional practice in the northeast and in Canada.
Until the early 1800s maple sap was primarily boiled down into sugar which was easy to transport and has a long shelf life. Dairy farmers made maple sugar to supplement their income and to use as an alternative to the more expensive sugar or molasses. Maple syrup became a serious product with the inventions of the tin can and the evaporator. Tin cans allowed for storage and shipping while evaporators provided a new level of efficiency. Because sap is only about 2% sugar, most of the water must be boiled off. The larger the surface area, the more steam that was produced and the faster the concentration of sugar goes up. The evaporator pan was rectangular, shallow, and maximized surface area.
In Connecticut sugaring usually starts the beginning of February. Taps go into the trees and the waiting begins. The days must warm to above 40 degrees and the night temperatures must drop below freezing. The sap with its stored sugar flows up and down the tree sending the sap into your bucket. If the temperature stays below freezing the sap won't rise, but your patience will eventually be rewarded. If, however, the temperature stays warm and forces the buds to leaf out, the season is over. The sap becomes bitter as the new cycle of growth begins.
Today's commercial maple sugar operations are quite different from the idyllic pictures on the can. With tubing, vacuum pumps and reverse osmosis filters they can maximize production. While technology may have made it less labor intensive, the essence is still the same – collect sap, boil off the water ……and they still need Mother Nature's cooperation.
Facts from the CT Department of Agriculture
Connecticut is 10th in maple syrup production in the United States
The production of maple syrup is the oldest agricultural enterprise in the United States.
Maple syrup is rich in calcium, which helps build strong bones and teeth.
Maple syrup was the standard household sweetener in the United States until around 1875.
So the next time you are enjoying your pure maple syrup, you can understand what went into getting it to your plate.
---
---