our Latest News and events

UPCOMING 2017 events

We have a lot of great Programming and Events planned for the next few months and hope you will be able to join us for many of them.

Commemorate and Celebrate at the SHS Holiday Open House
We invite you to the Sherman Historical Society's Holiday Open House on Sunday, December 3rd, from 2 to 5 pm.
This year's theme commemorates the 100th anniversary of "the Great War" World War I. Just as we did with our Connecticut-themed Open House, we've filled Northrop House with holiday décor meaningful to the historic event. Learn both fascinating and little-known facts about the War as you tour the always-beautifully decorated Society home.
For instance…
Did you know that Snoopy, of Peanuts fame, often pretended to be the "World War I Flying Ace" who had imaginary battles with the enemy's Red Baron? There was a 1960s pop song written about it too, called, "The Story of Snoopy vs. the Red Baron," by The Royal Guardsmen.
Did you know about the remarkable "Christmas Truce" of 1914? In the week preceding Christmas, French, German, and British soldiers along the Western Front, declared a widespread and unofficial cease-fire. In the spirit of the season, these men crossed the trenches to offer holiday greetings, fraternize, sing carols and even exchange gifts. It was a profound moment of peace and camaraderie in a time of such bitter conflict.
We invite you to join us in the spirit of the season for refreshments by the warm hearth fire. You may meet a WWI soldier and you may find Snoopy in among the decorations, if you play our "Can You Ace This?" seek & find game! For children of all ages, of course!
The Historical Society's Old Store Museum and Gift Shop will be open as well, beautifully decorated and featuring an array of wonderful merchandise for all your gift-giving needs.
We thank you all for your kind and generous support throughout the year. You've made our programming possible through your donations, and your attendance has made those events successes. We wish you all profound peace this holiday season. And may the New Year be historic!

---
Early Dismissal, Vacation Day and Weekend Children's Programming is coming for the 2017-2018 school year.
Kids@Northrop:
Children in grades 1st-5th are invited to join us for some educational and fun-filled programs. We are coordinating our 2018 schedule around early dismissal and days out for the Sherman School, be our programs are open to any child. Registration and Fee applies.



---
2017-2018 MEMBERSHIP DRIVE
Without you, We'd be History. With You, We Thrive and Keep History ALIVE.
We have officially kicked off our 2017-2018 Membership Drive.
It is the mission of the Sherman Historical Society to collect, preserve, and celebrate Sherman's history. We have been successful for more than 40 years thanks to the generous support of our members. We ask you to partner with us in preserving Sherman's history, providing educational programs, and maintaining our properties and exhibits. Your generosity is critical to our success as the Sherman Historical Society receives no financial assistance from the Town of Sherman.
Over this past year, we welcomed many visitors to the Northrop House Museum, the Cobbler Shop, The Old Store and the Barn Sale. Our annual Holiday Open House took families on scavenger hunt through the house, in June the Cobbler Shop and lawn were filled with Young Colonists during the Sherman School's mini Sturbridge Village Day, while the Old Store is always a regular stop for visitors.
While continuing the Children's Summer History programs we added several early dismissal days. Children came to the Northrop House for lunch then participated in hands-on activities to learn about maple sugaring, planting a garden and cooking. In addition to regular maintenance efforts, larger projects included painting both the Old Store and the Northrop House.
We ask that you to consider becoming a 2017-2018 Member of the Society. Your participation provides the financial support essential to the operation of the Historical Society, allowing us to serve the Sherman community and beyond. Additionally, it affords you with several opportunities for discounts with our programming and during the Member's Only Holiday preview party at The Old Store.

On behalf of the entire Board of Directors, we would like to again thank you for helping us keep Sherman's History alive.
You can mail a check to the office or select your Level of membership from the drop down box and click "Join Now" to make your dues payment via PayPal.
As always we thank you for your generosity and continued support!

---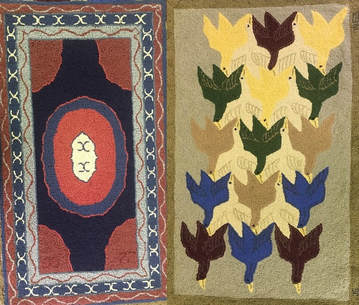 Did You Know...
TWO ARTISTIC HOOKED RUGS &
ONE PIONEER LADY
By Gloria Thorne, Curator
Jeanne Ibsch Smith, lived with her husband Philip Hillyer Smith on an old farm that Philip rescued in the early 1940's. If you want to experience the life led by the Smith's, just read PERENNIAL HARVEST, 1948, by "Phil Smith", as he was known in Sherman. In this book he describes their move from NYC to build a self-sustaining life-style under some very difficult circumstances! The book is dedicated to Jeanne, but she is not mentioned; it is a true story, with the town's names changed. He speaks of the previous owner, Charley Light and Andy Morren, who was a native, and great story teller; told me of "The Light House", up on the hill, which to me meant a beacon! Andy said, "when we were young, Charley would roll up the rug and hold "kitchen dances" - to the music of a fiddle!" Such fun they had!
Jeanne's rugs were made from men's wool suits, which she purchased at rummage sales in the area. The wool was cut into strips, dyed for contrast and then hooked into a pattern of her choosing. "The Birds" pattern was adopted from a wood cut by Maurits C. Escher; the smaller rug is of her own design. These rugs have genuine quality, and may currently be seen in the Gallery of SHS. Later, they will be hung.
The two hand-hooked rugs in the photo were recently returned to Sherman, having been made here 65 years ago. They were hand hooked by Jeanne Smith in her farm home atop Briggs Hill Road - on the NY/CT border. They were given to SHS by her step-son and granddaughters: Philip H. Smith III, of Virginia; Jennifer L. Smith and Thea E. Smith of Toronto, Canada.
My memory: Jeanne was at the book signing for "This is The Town I Remember", by Wilson P. Ware. We were at the Playhouse, on a sunny fall day and we sat down on a low stonewall to chat, with our books in our laps. She was close to Wilson and those who made up the volunteer staff of The Sentinel in the beginning years; and until the time it was sold. Her husband, Phil, was one of the original Editors of The Sentinel, and at this time, Janet Hopkins and I were the current owners. So, we had our local newspaper in common. I admired her energy and spunk. Phil had died; she was living alone and driving a small old car that got her to the Center for shopping and around locally. Jeanne was a small petite lady with a long braid down her back and wore long cotton skirts; probably hand made.
She still lived on her farm, with a few animals, a large garden, and a big woodpile, that she had cut and split! She may have had running water at this time, but earlier she was hand-carrying water from a pump at the well. I think she was about 80 when I knew her, and I totally admired her intellect and self-preservation! Jeanne died in 1992.
The two rugs are part of a larger collection, held by the family, and the Society is delighted to accept this example of the fine craftsmanship of an earlier resident. It is a very special remembrance. Thank you Jeanne, and family.

---
---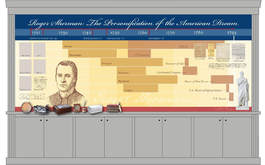 Did You Know...
The NEW Roger Sherman Learning Center
By John Jenner
In our last Newsletter you had a sneak preview of a major project now underway in the Ballroom of the Northrop House. Now we can reveal what's happening.
The above rendering was done by our local graphic designer, Marie Loria, who, incidentally lives with her family on the property that was, 275 years ago, the Roger Sherman farm. It is a time line display which shows the trades that Roger Sherman mastered and the contributions he made in his public life. The cabinet surrounding the time line is the one shown in our last newsletter which has now been completed by Jan Desiato.
This time line display will be the centerpiece of our new Roger Sherman Learning Center. Accompanying the time line will be a downloadable audio that will add a wealth of detail about Roger Sherman's life, his family, the places where he lived and a sampling of documents and artifacts related to his life.
When the display is completed and opened to the public later this year, it will be accompanied by period furnishings, all with connections to residents of Sherman, photographs of early and contemporary Sherman Residents and descendants of Roger Sherman. It will have a computer based research center which will contain our growing collection of Sherman's documents (transcribed for readability), local oral histories and the barns of Sherman, all of which have been photographed. The center space will be used for educational purposes for Sherman School students, public programs and special exhibits.
Keep watch in our SHS Newsletter to hear about our initiative to create a Roger Sherman Tourist Trail in Western Connecticut. Look for the grand opening of the Roger Sherman Learning Center which we hope you will all attend.

---
---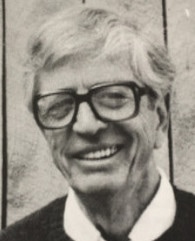 Did You Know...
WPW
By Ginny Zellner
WPW, stands as the tag ending to each article Wilson Ware wrote for the Sherman Sentinel spanning twenty-five years, as both an editor and contributor. The initials appear quite humble and unassuming. Add to the written work of WPW, try hundreds of pen and ink drawings of houses, barns and buildings. A Sherman legacy, pure and simple, Wilson captures the feeling of a rural Sherman, a time when you knew your next-door neighbor and you could just pop in unannounced for a cup of coffee. And today the school chums of then still look out for each other or are finding their way back to these small town roots. Wilson's drawings reflect unabashed love for the town he lived in.
Each image is intense, familiar and often taken for granted these days. Maybe it's time to take a closer look at this tall, athletic man with his dry sense of humor, walking with a slight limp and chugging around in his old VW camper bus.
Wilson wrote the record himself, 'Italy: The Riva Ridge'. One of the most compelling stories of WWII belongs to our own, Captain Wilson Ware an S-2 Intelligence officer, 1st Battalion, 86th Infantry, 10th Mountain Division. The U.S. Army's 10th Mountain Division was organized in 1942, Camp Hale, Colorado. The division was an experiment to train skiers, and climbers to fight as ski troops in the mountains of Europe during WWII. Some were accomplished skiers, others not so much. They were mountain men and all were volunteers. Together, in 13,000 feet altitudes, survival skills were honed. These recruits lived for weeks in brutal, towering snows and slept in temperatures dropping to 20 degrees below at night.
More
---
---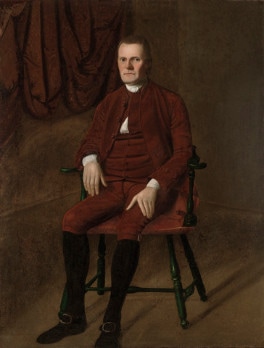 Did You Know...
Roger Sherman...'The Forgotten Founding Father.'
By John Jenner
It has been noted by Roger Sherman's biographers that he is "The Forgotten Founding Father". If we knew what he had contributed to the founding of our nation we would think of him as the Great Connecticut Statesman, our most important revolutionary hero.
What did he contribute? He served in the Continental Congress from its first meeting in 1774, through the Revolutionary War. Washington fought the war. but the Continental Congress ran the war and provided the weaponry, food, uniforms and finance. Roger Sherman was the only founder to sign all four of the founding documents and he played a significant roll in each of them.
The first was the "Articles of Association". The thirteen colonies had many border disputes that had to be resolved before colonies could unite to declare their independence as a committed set of thirteen states. Perhaps the greatest border dispute was the CT grant that extended westward across the upper half of Pennsylvania to Lake Erie. CT gave up these rights, holding only their portion of what is now Ohio. This is the Western Reserve, where CT citizen were given opportunities after the war.
Our second founding document was "The Declaration of Independence". We generally attribute it to Thomas Jefferson but, in fact, it was a committee of five statesmen who created it. They were: Jefferson; John Adams; Benjamin Franklin; Robert Livingston and Roger Sherman. If you still have a two dollar bill tucked away and look on the back you'll find a copy of the painting by our own John Trumball depicting the committee presenting the draft to John Hancock.
Our constitution is not the first one under which we were governed as a nation after the Revolutionary War. The first was "The Articles of Confederation", and there were thirteen Heads of State before Washington. It did not work well because the balance of power between the states and the central government had not been properly crafted.
Concerned leaders convinced Washington to convene the Constitutional Convention to draft a new constitution. The states representatives were deadlocked over the states vs. federal balance as before until Roger Sherman again proposed "The Great Compromise", which provides for proportional representation in the House and equal representation in the Senate. The deadlock was resolved, the "U.S. Constitution" was drafted, signed and taken back to the states for ratification. CT, under Roger Sherman's leadership, was the second state to ratify our constitution.
When George Washington was elected first President under our present constitution and the first Congress was seated, Roger Sherman was a CT Representative in the House. After a year or so one of our CT Senators resigned and Roger Sherman was selected to take his seat in the Senate, where he served until his death.
Your may recall that James Madison is credited with drafting the first ten amendments to our constitution, which we call "The Bill of Rights". A few years ago a draft copy of Madison's proposed nine rights was discovered in the National Archives among the Madison papers. It had Roger Sherman's comments and a suggested tenth right. Wouldn't you like to know which one he proposed?
Doesn't it seem to you that Roger Sherman should be recognized as one of our Founding Fathers? He served in public office almost fifty years and that is longer than any of our other recognized Founding Fathers.

---
---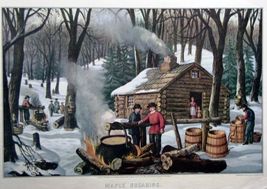 Did You Know...Maple Sugaring, by Sue Moga
As the Maple Sugaring Season gets underway it may conjure up thoughts of metal buckets hanging from trees, horse drawn sleds bringing sap to the sugar house and steam pouring out of the chimney. Or perhaps your images go back even farther to Native Americans and the legends of how it all began. For hundreds of years, maple sugaring has been a traditional practice in the northeast and in Canada.
Until the early 1800s maple sap was primarily boiled down into sugar which was easy to transport and has a long shelf life. Dairy farmers made maple sugar to supplement their income and to use as an alternative to the more expensive sugar or molasses. Maple syrup became a serious product with the inventions of the tin can and the evaporator. Tin cans allowed for storage and shipping while evaporators provided a new level of efficiency. Because sap is only about 2% sugar, most of the water must be boiled off. The larger the surface area, the more steam that was produced and the faster the concentration of sugar goes up. The evaporator pan was rectangular, shallow, and maximized surface area.
In Connecticut sugaring usually starts the beginning of February. Taps go into the trees and the waiting begins. The days must warm to above 40 degrees and the night temperatures must drop below freezing. The sap with its stored sugar flows up and down the tree sending the sap into your bucket. If the temperature stays below freezing the sap won't rise, but your patience will eventually be rewarded. If, however, the temperature stays warm and forces the buds to leaf out, the season is over. The sap becomes bitter as the new cycle of growth begins.
Today's commercial maple sugar operations are quite different from the idyllic pictures on the can. With tubing, vacuum pumps and reverse osmosis filters they can maximize production. While technology may have made it less labor intensive, the essence is still the same – collect sap, boil off the water ……and they still need Mother Nature's cooperation.
Facts from the CT Department of Agriculture
Connecticut is 10th in maple syrup production in the United States
The production of maple syrup is the oldest agricultural enterprise in the United States.
Maple syrup is rich in calcium, which helps build strong bones and teeth.
Maple syrup was the standard household sweetener in the United States until around 1875.
So the next time you are enjoying your pure maple syrup, you can understand what went into getting it to your plate.
---
---