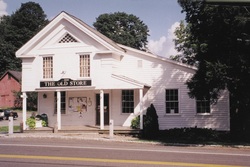 THE OLD STORE GIFT SHOP & MUSEUM
The first store at this site is listed in the Sherman land records as a mercantile belonging to David Northrop, Jr. in 1829. It was acquired by the Society in 1999, preserved with the intent of "reviving" the Old Store. Featuring displays from its past, the Old Store - with a wide range of gifts for the family and for friends. The Old Mercantile sold for every need, so does our Museum Shop of today. A store museum c. 1867 gives visitors a chance to reminisce and a second floor gallery shows rotating historical and art exhibitions.

OPEN: APRIL - DECEMBER
CLOSED JANUARY - MARCH
SPECIAL HOLIDAY HOURS: Wednesday through Sunday: 12:00 to 4:00 p.m.
860 - 350 -3475
---
---
The Old Store is Saying Hello to Spring and its 20th Season!
The Old Store is excited to kick off its 20th Season on Thursday, March 29th at noon. With the spring opening in mind, the buying team recently completed a trip to one of New York's outstanding gift shows. We met our goal of finding new vendors and products to bring a fresh and uncommon look to The Old Store to maintain our reputation for offering distinctive merchandise to our shoppers.
The dozens of volunteers that make The Old Store function have been sorting and staging the new shipments. Now we need YOU, our wonderful customers, to come join us in a special shopping experience, to celebrate Spring and enjoy our new merchandise. Tell others about us. Bring a friend. We promise you'll be delighted...and remember, we gift wrap for free.
The Old Store, owned and operated by The Sherman Historical Society, is located at 3 Route 37 Center in Sherman, CT. We will open Thursday, March 29th and our hours are 12:00 to 4:00 Thursday through Sunday (closed Easter Sunday), or whenever the flag is flying. Looking forward to seeing you soon.

SHERMAN BOOKS FOR SALE

Curious about the Town of Sherman? We have some wonderful books that celebrate the our Town's rich history, including books dedicated to the homes and barns, churches, and people that have made Sherman what it is today.

All books can be purchased at the Old Store Gift Shop & Museum or, feel free to purchase online (+ additional shipping & handling charges) by printing out this

Order Form

and mailing it into the SHS.
---
We NEED You!
Would you like to volunteer in a place where you are surrounded by beautiful things and history all at the same time? We rely on volunteers to run our Old Store Gift Shop so that we can offer regular business hours for our customers. If you could spare 4 hours one day a week that would make a huge impact in our ability to keep the store open during our regular business hours. Special discount opportunity during December for volunteers who meet a minimum hourly requirement..
For more information, please click
here
.