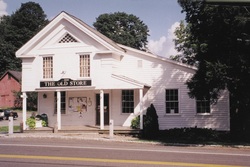 THE OLD STORE GIFT SHOP & MUSEUM
The first store at this site is listed in the Sherman land records as a mercantile belonging to David Northrop, Jr. in 1829. It was acquired by the Society in 1999, preserved with the intent of "reviving" the Old Store. Featuring displays from its past, the Old Store - with a wide range of gifts for the family and for friends. The Old Mercantile sold for every need, so does our Museum Shop of today. A store museum c. 1867 gives visitors a chance to reminisce and a second floor gallery shows rotating historical and art exhibitions.
OPEN: APRIL - DECEMBER CLOSED JANUARY - MARCHSPECIAL HOLIDAY HOURS: Wednesday through Sunday: 12:00 to 4:00 p.m.CONTACT US: 860-350-3475 or email
---
---
2019 Volunteer(s) of the Year
CONGRATULATIONS TO THE OLD STORE VOLUNTEERS!
When selecting this year's Volunteer of the Year, The Society knew they wanted to recognize someone at The Old Store, but then thought, how can you pick just one hard-working, dedicated volunteer? Well, the answer was simple...we would just recognize each and every one of them!
We are not sure of you all know this, but every aspect of The Old Store is completely by handled by volunteers and many of them. From purchasing to displaying, manning the store and providing the best customer experience around, these women (yes, all women), have delighted customers and helped them find the perfect gift. Additionally all of the proceeds go directly to help support The Society.
So, please shop by The Old Store, it is all ready for your Fall and Halloween decor and apparel needs and while you are there, please congratulate these volunteers. And as a special treat, the SnowBird Table is ready too!
The Old Store is open on Thursdays through Sundays from noon until 4pm or when the flag is flying.
Picture - Just some of the many Old Store Volunteers led by Lisa Cilio (center next to Sue Moga). Photo Credit: Lori Finck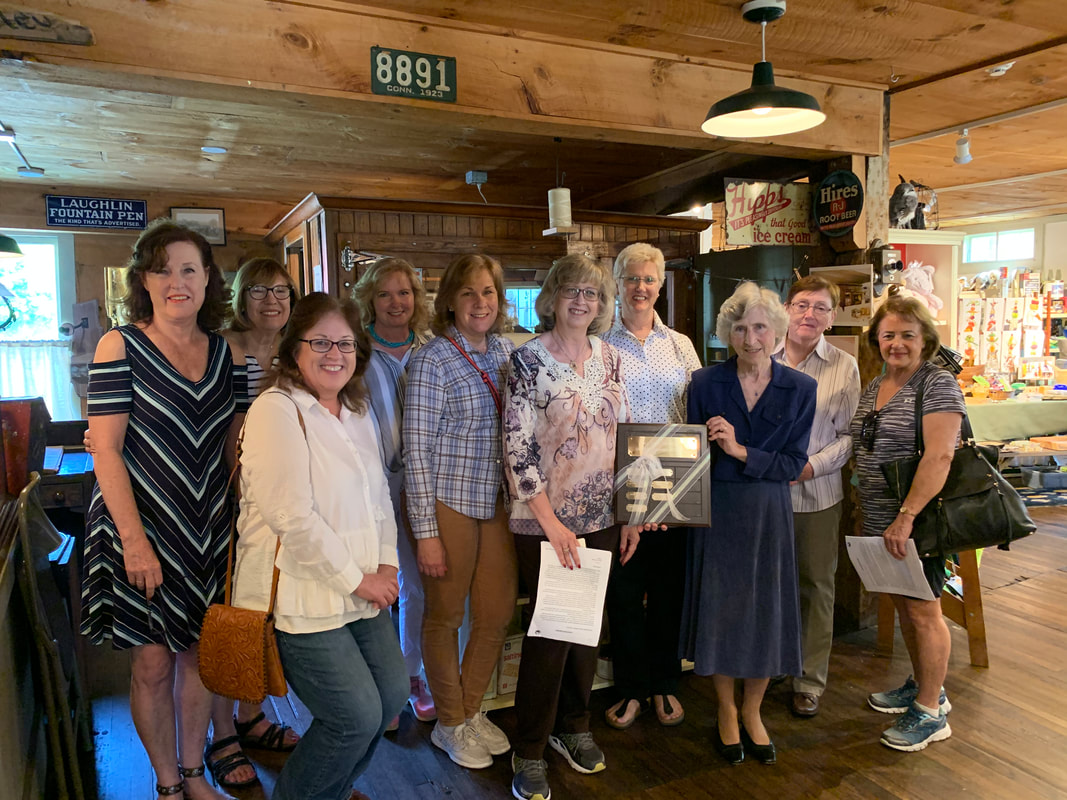 ---
The Old Store Celebrates its 20th Anniversary!
When the Connecticut General Assembly issues an official citation, they want it to be known to all that the Assembly offers its sincerest congratulations to The Old Store Museum and Gift Shop in recognition of its 20 years of operation – well, what else can we say?
The August 18th celebration of The Old Store's anniversary was a magical night. Nearly 100 members turned out to socialize, shop at 20% off and enjoy the festivities. Moira Kelly was recognized for her leadership in the initial fundraising to purchase the store, and for running the store for the last 15 years. Members previewed a new video (see below) highlighting the history of the store and its purchase by the Sherman Historical Society.
Sue Moga, president of SHS, pointed out that the store has contributed generously to SHS over the last 20 years, in addition to providing significant renovation and maintenance of The Old Store Museum and Gift Shop building. These accomplishments were made possible thanks to a wonderful, dedicated group of volunteers.
Be sure to stop by the store next month to see the framed official State proclamation presented to us by Senator Michael McLachlan, and be sure to pick up a few gifts while you visit! We are open Thursday through Sunday, or whenever the flag is flying. Looking forward to seeing you soon. Need to contact us: 860-350-3475 or
email
---
---
SHERMAN BOOKS FOR SALE

Curious about the Town of Sherman? We have some wonderful books that celebrate the our Town's rich history, including books dedicated to the homes and barns, churches, and people that have made Sherman what it is today.

All books can be purchased at the Old Store Gift Shop & Museum or, feel free to purchase online (+ additional shipping & handling charges) by printing out this

Order Form

and mailing it into the SHS.
---
We NEED You!
Would you like to volunteer in a place where you are surrounded by beautiful things and history all at the same time? We rely on volunteers to run our Old Store Gift Shop so that we can offer regular business hours for our customers. If you could spare 4 hours one day a week that would make a huge impact in our ability to keep the store open during our regular business hours. Special discount opportunity during December for volunteers who meet a minimum hourly requirement.
For more information, please click
contact us
.