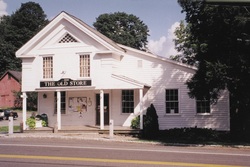 THE OLD STORE GIFT SHOP & MUSEUM
The first store at this site is listed in the Sherman land records as a mercantile belonging to David Northrop, Jr. in 1829. It was acquired by the Society in 1999, preserved with the intent of "reviving" the Old Store. Featuring displays from its past, the Old Store - with a wide range of gifts for the family and for friends. The Old Mercantile sold for every need, so does our Museum Shop of today. A store museum c. 1867 gives visitors a chance to reminisce and a second floor gallery shows rotating historical and art exhibitions.

OPEN: APRIL - DECEMBER
CLOSED JANUARY - MARCH
SPECIAL HOLIDAY HOURS: Wednesday through Sunday: 12:00 to 4:00 p.m.
860 - 350 -3475

---
---
SHERMAN BOOKS FOR SALE

Curious about the Town of Sherman? We have some wonderful books that celebrate the our Town's rich history, including books dedicated to the homes and barns, churches, and people that have made Sherman what it is today.

All books can be purchased at the Old Store Gift Shop & Museum or, feel free to purchase online (+ additional shipping & handling charges) by printing out this

Order Form

and mailing it into the SHS.
---
We NEED You!
Would you like to volunteer in a place where you are surrounded by beautiful things and history all at the same time? We rely on volunteers to run our Old Store Gift Shop so that we can offer regular business hours for our customers. If you could spare 4 hours one day a week that would make a huge impact in our ability to keep the store open during our regular business hours. Special discount opportunity during December for volunteers who meet a minimum hourly requirement..
For more information, please click
here
.
---
THE OLD STORE IS HOLIDAY READY!
The Old Store kicked off the Holiday Shopping Season with their Annual 2017 Holiday Preview Party. This event is a wonderful opportunity for our Members to eat, drink, be merry and Shop! This year's party was another great success and we thank you all for coming and Moira Kelly and her volunteers for all they do to make The Old Store such a treasure to Sherman and The Society!
We hope you will shop for everyone on your holiday list, as we have something for everyone. We'll be presenting exciting merchandise from old and new sources, as we try to surprise and delight you. If you have not liked our
facebook page
, please do. We will be featuring a gift suggestion of the day for the two weeks leading up to Christmas. And all proceeds go to support the Society, so it is a win/win for everyone!
This is just one of the many benefits the Society offers to its Members. If you are not a Member, please consider becoming one.
Store hours are Wednesday-Sunday from noon to 4:00 p.m. We can be reached at 860-350-3475, or via
email
. Please come, support your local small business and help us celebrate the Holidays!
(Photo credit: Party - Hildi Grob, Merchandise - Marie Loria)